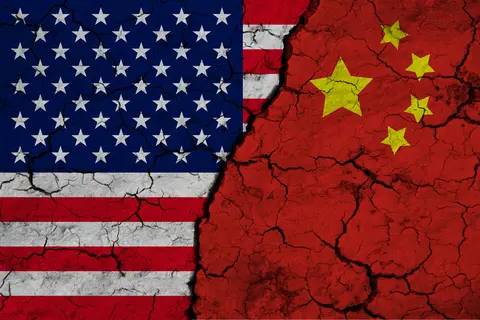 US trade dispute
US-China trade conflict looks set to escalate
June 19th, 2018
In the latest round of the growing tit-for-tat trade conflict between the US and China, US trade officials have been asked to identify more Chinese products upon which to impose tariffs.
US President Trump has indicated that he wants a new 10% tariff to be imposed on some $200bn Chinese imports and will consider another round of tariffs on a further $200bn worth should the Chinese retaliate. These measures will be in addition to the $50bn tariffs already in the pipeline, which will come into effect on July 6th, 2018, and which were levied in retaliation for alleged theft of US intellectual property by the Chinese. If all the $450bn of tariffs threatened by the US so far come into effect, they will exceed the existing annual deficit that the US has with China.
The trade spat with China follows close on the heels of the conflict over steel and aluminium tariffs imposed by the US on the EU, Canada and Mexico.
Markets have already reacted negatively, with share values falling – unsurprisingly, US exporters to China appear to be suffering the most.
Previously:
US tariffs on steel and aluminium could be the start of an all-out trade war
US tariffs on steel and aluminium imports from the EU, Mexico and Canada come into force today (1st June, 2018) amid strong condemnation and tit-for-tat threats from those countries affected by the 25% and 10% taxes.
As well as raise tensions between the US and its major trading partners, it is likely to trigger a formal WTO dispute, given that the move breaks one of the WTO's founding rules – the Most Favoured Nation (MFN) rule. This was the first rule laid down in the historic GATT agreement of 1948, and binds members by stipulating that "countries cannot normally discriminate between their trading partners. Grant someone a special favour (such as a lower customs duty rate for one of their products) and you have to do the same for all other WTO members."
While this may be seen as a negotiating position of the US administration in advance of a new set of agreements, there is a distinct possibility that a series of tit-for-tat responses by the EU, Mexico and Canada will escalate in a full-scale trade dispute. Given that globalisation has increased the extent to which the prosperity of one part of the trading system depends upon the prosperity of other parts a full out trade dispute could present the global economy with its toughest test since the global financial crash. While not a beggar-my-neighbour policy in the classical sense (a trade policy which first identified by British Economist, Joan Robinson) – it is fairly clear that, should a trade war ensue, jobs will be lost in those countries involved, and not gained – as the initiator of the policy hopes! However, this must be put in the context of how the current US administration 'does business' – but, for now at least, the tariffs are real and not just a 'threat' and it is only a matter of time before the effects start to bite.
To read more on beggar-my-neighbour policies – see article in the FT.
See more on tariffs.
---
May 20th, 2018
China agrees to 'significantly increase' imports from the US
It has been reported that Chinese negotiators are prepared to offer the US a deal which could see it buying more US goods to help rebalance US-China trade.
While a figure of up to $200 billion in new orders has been mentioned, Vice Premier Liu He would only confirm that China will, 'significantly increase' imports of US goods and services, including agricultural and energy products.
Cynics are already wondering exactly how the US will be able to meet this extra demand, given that it is operating near to full capacity, with unemployment now below 4% for the first time in 18 years.
April 10th 2018
China to ease restrictions
Speaking at the Boao Forum for Asia, the Chinese president, Xi JinPing, said he would look to open up China to international companies and their goods and services.
In his speech he announced lower tariffs on imported motor vehicles and pledged to open up the Chinese financial sector and allow greater foreign investment in Chinese companies. He also stated that he would seek to tighten up the protection of intellectual property rights (IPR) – a major concern of the US administration. Sources: CNN Money; China Daily.
Previously:
April 4th, 2018
In a classic tit-for-tat response to the US by the Chinese government, tensions between the two countries escalated today as China announced its plans to put a 25% tariff on over 100 US goods, including tobacco products, US cars and aeroplanes, whiskey, oranges and soya beans.
This follows the US announcement that it would place 25% tariffs on some 1300 Chinese products. The latest moves certainly ratchet up the pressure on both parties to start talks, especially with US commodity prices suffering (over 30% of all US soya beans are exported to China).
April 2nd, 2018
Earlier – China has suspended several tariff concessions and raised other duties on 128 US products in direct response to US tariffs on steel and aluminium imports, imposed in March, 2018.
While several countries, including Canada, Mexico, and EU members are exempt from steel tariffs, China is not – despite the fact that it is not among the top 10 steel exporters to the US.
According to the US administration, the decision to impose up to $60bn on Chinese goods, and limit Chinese investment in the US, was in response to what it regards as the 'theft' of intellectual property. International producers must provide China with open access to the technology used in imported goods, and given the level of technology used by some US and EU producers the concern is that technology is too easily transferred between international producers, especially from the US, and China. While technology transfer is clearly seen as a benefit to the recipient country (as a development strategy), it is a long-term cost to the international firms involved.
The bigger picture is that the US has a considerable trade imbalance with China, with a trade deficit in 2017 alone of over a third of a trillion dollars. The view from Washington is that decades of government subsidies to Chinese steel producers in particular have led to considerable excess capacity, with the result that China has been dumping excess output onto global steel markets, causing lost profits and rising unemployment in the steel sector.
Despite the response by China, commentators in China are keen to point out that most of the US's key exports to China have been left unaffected by the recent tariffs. Indeed, many in China argue that the trade imbalance between the US and China is the result of a structural imbalance between the US and China, rather than deliberate unfair competition, with China exporting commodities and relatively low value-added products, while importing high value services from the US.
The former Chinese finance minister, Lou Jiwei, went further to state that 'the root cause of the China-US trade problems is Washington's own policy choices, which have led to low saving rate of US residents and an excessively high fiscal deficit of the federal government'.
The consensus is that the recent tariff hikes and tit-for-tat responses are designed to get both parties around the negotiating table – which makes sense given the US's withdrawal from the Trans-Pacific Partnership (TPP) in 2017.
See also:
---