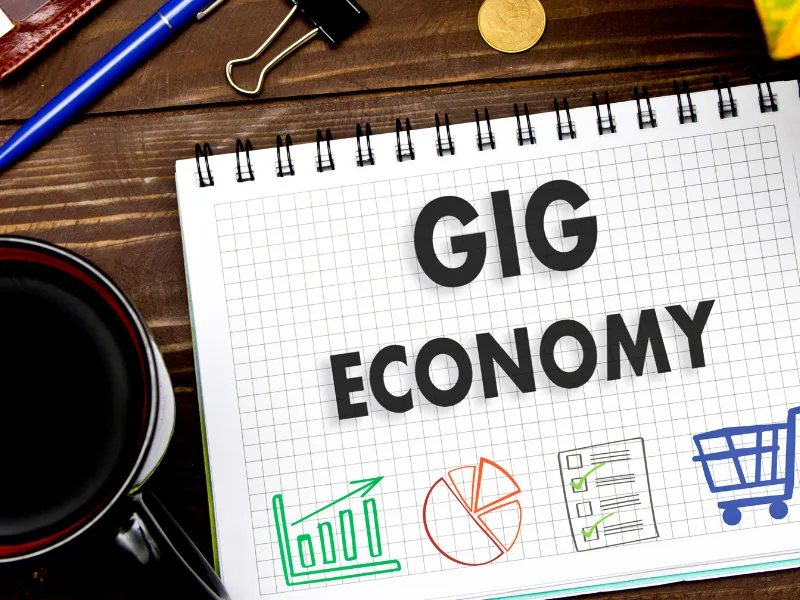 Pros and Cons of Working in the Gig Economy: Is it Right for You?
The job market is constantly changing, and today, more and more professionals choose the flexibility of irregular gig projects over traditional full-time employment. The companies adjust to this market trend that is becoming ever-more common. But what are the top benefits of embracing the gig economy? And how disadvantageous can such a system get?
Like any other system, the gig economy is not perfect — neither for employers nor employees. Below, we've tried to analyze the top pros and cons for both parties. Perhaps it will help you decide if the gig market approach is something you should try.
Gig Economy Pros & Cons for Employees
Pros
Flexible work hours: this is one of the primary reasons professionals consider a gig job model rather than traditional full-time employment. It helps maintain a more even balance between professional and personal life, allowing (in most cases at least) a chance to dedicate more time to travel, leisure, or family matters.
More room for variety: doing the same routine job over an extended time is one of the primary causes of occupational burnout, which, if not addressed timely, can become a reason for more health problems. While gig professionals are not 100% safe from burning out, they still have more variety than most office employees.
Almost unlimited independence: traditional employment scheme leaves professionals little choice over the projects they work on. In contrast to that, gig workers have almost complete autonomy as to which jobs they choose and how exactly they accomplish their project goals, as long as the project timeline and requirements are not violated. More than that, should they disagree with the project superior at any stage of the working process, there is practically nothing to stop the gig worker from leaving — even if the employer contacts the top management executives of Upwork (or any other platform they found the freelancer on), there is nothing they could legally do to prevent a contractor from leaving.
Higher per-hour compensation: this is not always the case, but qualified professionals who are good at managing their own time can usually earn more on a per-hourly basis than they would be sitting in the office — and the hours worked a day may also be below traditional six-eight a day. On the other hand, there is always a risk that the workload may be too low to ensure sufficient income. But that is where the cons begin.
Cons
No vacation and health benefits: gig workers and self-employed professionals do not get any vacation or sick leave payments. This is not a big deal if they earn enough to cover their unexpected or leisure expenses themselves. But that, sadly, is not always the case. Besides, even if the workload is steady enough, there is always a risk of falling into another trap — vacation-less work for years without proper breaks. This can be pretty dangerous, too, because a lack of scheduled vacations can also result in professional burnout syndrome.
Additional tax paperwork: most full-time employers don't bother with their tax declarations because their finance departments fill those out. With independent gig work, tax reporting is up to the independent contractor, which is an additional stress cause for many.
There is no certain way to predict income: in the gig economy, it is almost impossible to forecast one's future earnings. The workload can be very uneven, especially in seasonal jobs like tourism. There will be months with more overtime than any full-time employer can legally allow, just like there will be months with few or no projects at all. And that is another stress factor that not every professional is prepared to
handle.
The extra effort to represent yourself: besides constant hunting for new projects, gig workers should be prepared to spend time building their online presence and personal brand. This may involve activities from launching a personal website to social media branding. This additional work time may pull focus from the paying projects, but ignoring personal branding may result in a low workload.
Gig Economy Pros & Cons for Employers
Pros
Often more affordable than in-house staff: often, businesses get a chance to downsize by paying gig workers. Even if the actual hourly compensation is sometimes higher than the in-house employee would get, there are no extra expenses for no sick leave, vacation, insurance, and, most importantly — no need to pay for the waiting period between projects. Simply put, a short-term worker for a short-term project provides additional financial security for an employer — or, more specifically, eliminates the responsibility of signing a regular paycheck.
Additional budget cuts on employee education: employers happily hire gig workers because they can save more money on seminars, workshops, and other paid events for up-skilling their workforce. The potential downside is that you may get less qualified staff. But in practice, plenty of sites feature profiles of professionals — professionals who invest in their education — that it is not too difficult to find a highly qualified short-term contractor.
A chance to have a 24/7 working team: besides financial benefits, remote gig workers are a perfect choice for large international companies that need a 24/7 working team. Even in relatively small businesses, this feature can prove very helpful — for example, in website support or online consulting.
Cons
Legal issues: not every business model presupposes hiring short-term contractors. Depending on your legislation, additional tax burdens may be associated with short-term workers. And even though technically, there is always a legal loophole in most regulations, searching for such a loophole may not be economically viable.
Often less involved and responsible than in-house staff: with practically unlimited independence, gig workers may often be less reliable than in-house ones. After all, employers have little or no leverage on them besides financial compensation. And, even if you sign legally binding contracts with your gig workers (which you should definitely do), there is a chance that they will not want to prolong it after a few months of work — even if you have no way of replacing them. Often, this has nothing to do with the work environment in your company; since gig workers are always on the lookout for new work opportunities, they may already be looking for a new gig before your existing contract expires. Of course, understanding how to attract freelancers (and, more importantly, retain them) can help a lot. But commitment is never a guarantee with gig workers.
The lack of training may result in quality losses: another danger is that the lack of commitment and training may result in subpar quality of the short-term contractors' work. This does not apply to everyone because many gig workers are highly skilled experts. But, you will not know that for sure — not until you try collaborating with a few of them.
Time loss for hiring new contractors: searching for new people to join your team, even if on a short-term, is a time-consuming process. It may take a while before you find several trustworthy professionals to work with. Plus, when you collaborate on a gig basis, there is no guarantee that the people you need will be available when you need them. And that means more time and money losses.
Wrapping it all up, the decision to collaborate on a gig basis — for employers as it is for employees — depends on one's priorities alone. It is a choice between flexibility and seeming security. Why seeming security? The last few years, with their pandemics, turbulent politics, and constant workplace changes, have proven that security can be very misleading. Change, on the other hand, is certain, so innovative companies, as well as creative professionals, have a lot to win when considering the gig collaboration model.
Further reading: Digital Passive Income Solutions
---