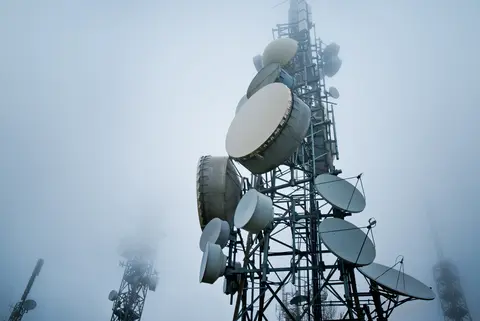 Telecoms
Telecoms
British Telecom lost its protected monopoly status when it was privatised in 1984. Between 1984 and 2014 BT's market share for fixed-line calls fell from 100% to just below 40%. Privatisation allowed new entrants and increased contestability in the market.
The UK Fixed Line Market (2013)
Supplier
Market share %
BT
37.6
Virgin media
12.6
Others
49.8
Source: Ofcom, 2014
The de-regulation of the telecoms market, which followed privatisation, opened up the market to rival suppliers, and with the application of new technology, barriers to entry fell appreciably.
The network now can be used by other firms through a process called Wholesale Line Rental (WLR).
After being threatened with brake-up BT created its own independent division, Openreach, in 2004 to try to ensure fair access to its network for rival operators.
In 2005 Ofcom set an RPI – X pricing formula for BT's charges for the use of its network to encourage rivals to enter the market. By 2006 over 300 independent firms had access to the network infrastructure, making the UK telecoms market one of the most competitive in the world.
Even so, Ofcom needed to request that BT speeded up its unbundling process, as well as investigating BT's broadband pricing.
Today, the market can best be described as an oligopoly, with a three-firm concentration ratio of 89%.
Market shares of mobile phone operators
The mobile phone market in the UK is dominated by four main players – EE (now part of the BT group), O2, Vodafone, and Three.




In  late 2014 BT attempted to re-enter the mobile provider market with the acquisition of EE, the market leader for mobile provision. The £12.5 bn merger was cleared by the CMA in early 2016.
---