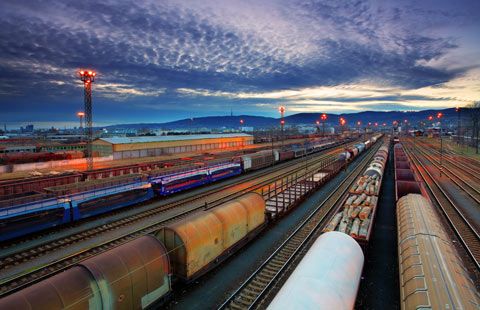 Railways
The railway network
Reorganisation
Rail services in the UK have been reorganised twice in the last 20 years. Rail was first privatised in 1993 with the creation of Railtrack as the monopoly owner of the rail infrastructure.
In the mid 1990s train operating franchises were sold off to private firms such as Virgin and Stagecoach. By 2000, the Labour government had created the Strategic Rail Authority, which ceased operating in 2005.
In 2002, the not-for-profit organisation Network Rail was created to replace Railtrack. Its aim was to improve the saftey, reliability and effiiency of the UK rail network. By 2009, there were 34 separate train operating companies, with franchises running from 5 to 8 years. By 2016 the number had fallen to 31.
Network Rail requires large subsidies from central government, averaging £4bn per year. In 2015 Newtwork Rail received direct subsidies of £3.8 bn, with total subsidies to rail services of £4.8 bn. (Source: ORR.)


Rail services are subject to regulation by the Office of Rail and Road Regulation. (ORR).
Evaluation
Critics argue that the current structure is too fragmented – fragmentation is one way of resolving the natural monopoly dilemma, in this case having a separate owner of infrastructure, Network Rail, and independent train operators. However, this separation can create co-ordination and control issues, such as:
Diseconomies of scale – where it is difficult to co-ordinate operations across such a large structure.
Information failure – information may not flow smoothly between parts of the structure.
The principal-agent problem – where the search for higher profits may compromise safety. The main challenge involves chosing the right balance bewteen having a railway system that operates in the public interest, and one that operates on commercial lines.
Would re-nationalisation help?
Many feel that bringing  railways back into the public sector will create a net benefit,  especially because:
Safety would not need to be compromised.
The rail network can be better co-ordinated.
More funds can be allocated to investment in infrastructure.
More account can be taken of the positive externalities associated with rail travel.
However:
Governments also fail in terms of information failure, over-interference, and excessive bureaucracy.
Nationalisation does not guarantee efficiency.
Is it fair on the general taxpayer to subsidise rail transport which some may never use, despite the external benefits.
There may be less, rather than more, access to capital, as rail has to compete with other demands on the Exchequer.
SOURCE: THE TIMES, 10/01/04
---